Bridge of Peace Ceremony online – Scotland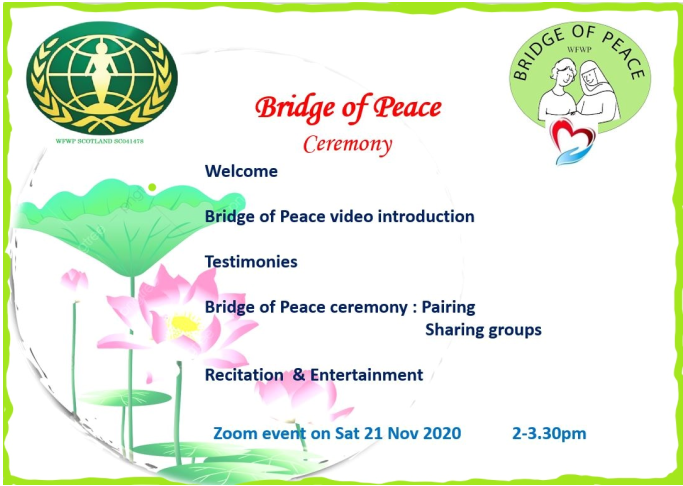 The Bridge of Peace hosted by WFWP Scotland was held online on Saturday 21 November. There were about 25 women attending from across Scotland. The technical difficulties that we have all become accustomed to during lockdown were swiftly addressed and the meeting proceeded smoothly.
Ann Breslin, Coordinator of WFWP Scotland welcomed everyone and showed a short video introducing the Bridge of Peace ceremony and its unique way of inspiring reconciliation and healing between women from different backgrounds.
Francoise Murphy, the Co-ordinator of the Bridge of Peace in Watford gave a very comprehensive presentation of the activities since the organisation was formed in 2003. She described the inspiration that had come to her after 9/11 and her concerns and consequences this event would have on the stability and peace in our world. She thought that she should do something to bring about greater understanding between the communities in Watford. The scenes of happy women co-operating across culture and religion to bring relief to others were inspirational. The clips of sisters crossing the virtual Bridge of Peace were moving and demonstrated a commitment to "Peace begins with me".
Marijah Butcher then presented a personal experience of taking part in the second Bridge of Peace in 2005. She described the beautiful friendship with her Peace Sister Khalida that had blossomed from that moment, and how they had drawn closer through discovering shared values and dedicated her remarks in memory of Khalida.
The song "We can Build a Bridge" with its chorus of "Don't you think it's Time" always lifts my heart and this occasion was no exception.
The organizers divided the list of participants into two and each sister was presented with the name of her new Peace Sister. Contact details were exchanged between them in the hope that new friendships would grow and help spread harmony and peace through greater understanding.
Written by Marijah Butcher.
21/11/2020
To return to the Sisterhood page: Click here.